5 Digital Workspace Solutions for Secure Remote Work in 2023
August 3, 2023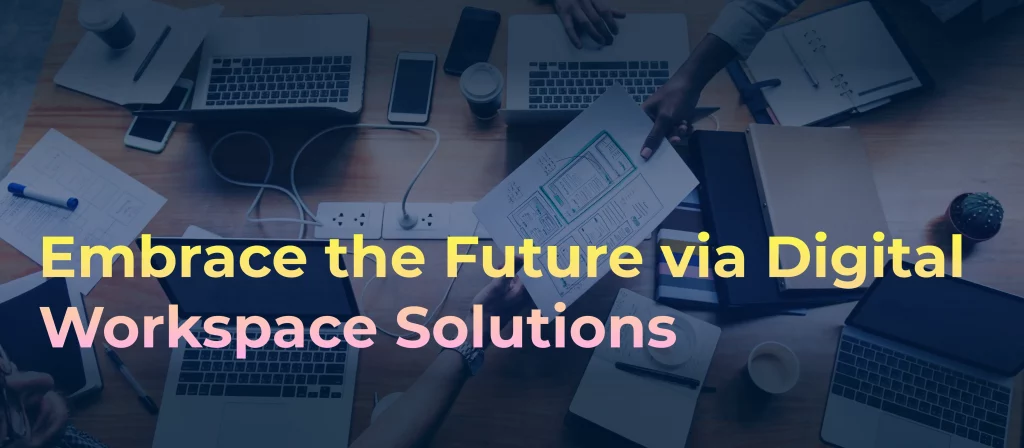 The innovations and trends in the digital world have opened the gateways for boosting the performance of businesses and companies and transformations of the IT field to digital workspaces were one such innovation. During the covid times, companies struggled with challenges and risks, and in such cases, the company chooses a digital workspace to manage its targets and employees' safety. It became a trending strategy for many companies and businesses for bringing people together through virtual spaces.
But do you know why most companies utilize digital workspaces? The foremost reason is to enhance productivity and employee experience. Unlike traditional work culture, it aids the employees to continue working no matter where they are. Creating a collaborative workspace and smooth workflow will help the employees to utilize digital technology to serve customers efficiently.
Reading down, you will learn the various effective digital workspace solutions for secure remote work.
Top Digital Workspace Solutions You Should Know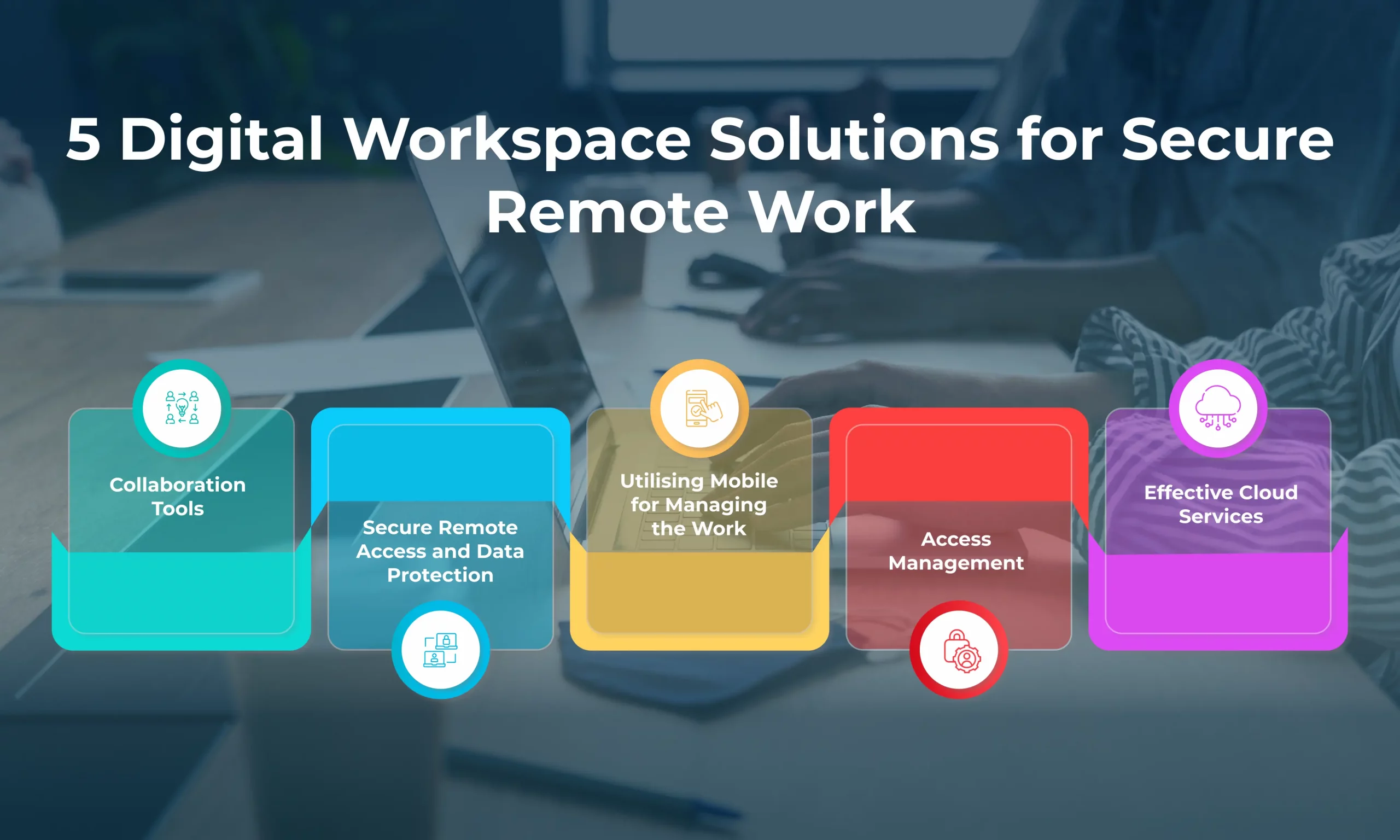 Collaboration Tools
In a remote workspace, the employees have to work together virtually, even in different geographical locations. To embrace your digital workspace with pragmatic results, there is a need for collaboration tools. So, having a set of tools for video conferencing, sharing files, managing and handling projects, etc. will help the employees lead smoother communications even if they are in workspace of different locations. 
Many employees would work on the assigned tasks effortlessly and update or report the process and results. It makes many organizations rely on collaboration tools as a mode of streamlining the workflow and creating an effective digital workspace.
Secure Remote Access and Data Protection
One of the major concerns while working in a digital workspace is remote access. But why is it necessary? Have you thought of it? Secure remote access is a solution for using advanced technologies to secure your users from phishing attacks and cyber threats. Even though digital workspaces are beneficial, it makes your business or organization prone to many security issues like unauthorized access. The only solution to safeguard your digital workspace from these threats is secure remote access like multi-factor authentication, virtual private networks, etc.
But what about Data Protection? With secure remote access technologies, it is significant to take care of your confidential resources and data. The digital workspace solutions for ensuring and protecting your data might include data loss prevention measures, regular backups, etc.
Utilizing Mobile for Managing the Work
Since the usage of mobile phones is rising day by day, the digital workspace started using mobile as an efficient device to manage tasks from offices in different geographical locations. Through mobile device management, IT administrators could enforce and control policies and data through smartphones easily.
MDM is one of the best solutions for hassle-free workflows, it helps employees to secure and manage tasks through employee-owned or corporate-issued mobile devices. Mobile device management assists organizations to monitor software updates and data from anywhere through their smartphones.
Access Management
You might be aware of the significance of digital identity in today's digital era. Digital identity is the information used by computer systems to identify or address an external entity such as an individual, organization, etc. So, managing digital identity and access acts a crucial role in remote work environments. It enables managing user identities, authentication mechanisms, password policies, and access management to ensure a safe digital workspace.
Effective Cloud Services
Along with these above-mentioned effectual solutions, Is it necessary to have cloud services for a productive workspace? Yes, organizations prefer and install cloud services to make your data available and accessible no matter where you are. Utilizing cloud-based infrastructure will help your business to get transformed via mobile and custom web solutions.
But you should keep in mind that a functional cloud provider can only be a solution for your business transformation. A secure cloud service will enable and monitor access controls to boost the integrity of the confidential files and data stored in the cloud.
Why Digital Workspace Solutions are Essential?
Along with digital workspace solutions, let's summarize some achievements of companies due to digital workspace.
Streamlines the Process
Since most companies are adapting to the digital workspace, the power of AI has simplified and automated tasks. Expecting colossal productivity, the digital workspace plays a significant role in converting the process into a more standardized and efficient one.
Improves Flexibility
Have you thought about the flexibility you gain from the digital workspace? Due to the remote work environment, digital workspace allows employees to adapt to different work styles. The data and content of the employees are secured through collaboration tools enabling the employees to access the documents on any device.
Employee and Customer Satisfaction
There are businesses with branches and offices in different geographical locations beyond states or countries. So, traditionally the employees travel across different workspaces for collaborations and discussions. Digital workspace has brought an end to the hassles of the employees and gives an opportunity to work, collaborate, discuss, and manage tasks across different workspaces with increasing productivity. This flexible workspace with enhanced interaction with peers virtually increases employee satisfaction.
The employees who are satisfied with the requirements and necessities provided by the company through digital workspace create happy customers. Effective participation and discussion with the customers will help the employees to discover their needs and expectations. It eventually leads to better outcomes resulting in great customer satisfaction.
Optimize the cost and Expense
One of the crucial advantages of establishing a digital workspace is boosting productivity with limited costs and expenses. Implementing tools for self-help and self-heal encourages the employees to solve their issues like connectivity issues, password issues, etc.
But do you know improper tools and work structure could easily drop down the digital workspace? Here are some digital workspace solutions for you. These solutions will help you to convert your digital workspace into better and more secure remote work from different locations.
Strong Recruitment and Enhanced Productivity
When companies prefer digital workspaces, there will be no barrier to recruiting talents beyond geographical boundaries. With a proper examination, you can look for employees who can work progressively in advanced and digital work environments.
In addition to these, you can expect advanced productivity due to the availability of effective tools for identifying, handling, and meeting deadlines.
Unleash the Potential of Digital Workspace via Digital Workspace Solutions

Like Aaron Levie, CEO of BOX said, "The last ten years of IT have been changing the way people work. The next ten years of IT will be about transforming your business."
Many businesses misunderstand that remote work or digital workspace will impact the productivity and teamwork of organizations badly. It's time to come out from this misconception because digital workspace will always be effective if utilized in the right way. Digital workspace solutions have the strong capabilities to transform your digital workspace into a secure and productive remote work environment. So, welcome the innovations and trends that would help your business to reach new horizons.
Keep reading about
cloud
managed-it-services
data-security
software-testing-blogs
artificial-intelligence
user-experience
software-development
digital-marketing-services
data-security
LEAVE A COMMENT
We really appreciate your interest in our ideas. Feel free to share anything that comes to your mind.