WHY DO YOU
Need online backup?
Data backup services keeps your data safe and recovers your data in case of any emergency. So when you accidentally delete files or delete format your storage device, we help you recover your deleted, formatted, corrupted files from any device by keeping a backup always way ahead in time.
We know, your business files on your desktop are always at risk of getting corrupted or even lost sometimes. Thus it is very important that they are stored and backed up and kept up-to-date. With our data backup you get-
Up to 30 different versions

Store up to 30 different versions of files or revert back to any of the previous 30 versions of those same files.

Immediate access

You always have immediate access to stored files. Files can be restored any time, day or night.

Without any interruption

Work without any interruption as files are being backed up. Whether you are a Managed IT Services or Enterprise customer.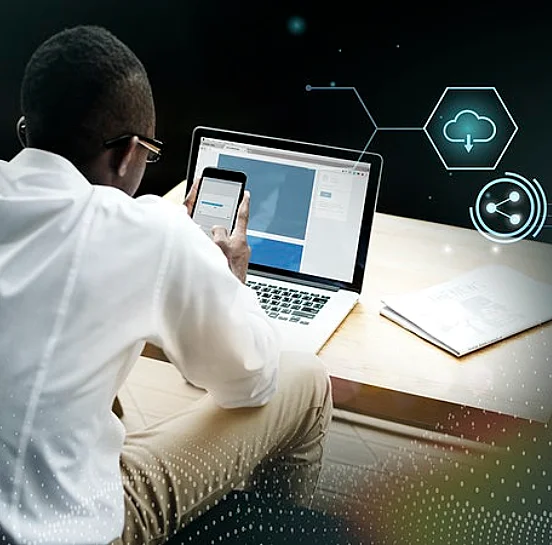 Why Terralogic
Cloud-backup?
Flexible

Our data backup and recovery service scales to match, so you get the size and scope of storage and options you need, and the price to match.

Scalable

Need more storage or user access? Easily done. Need to scale back down? That's easy too. It fits your needs.

Secure

The highest levels of encryption and two-factor user authentication to ensure you and only you can access your files.

Auto-backup

Built-in business continuity, saving multiple versions of all your files to ensure they're easily recovered even if you deleted them yourself.
What is data recovery?
Data recovery is when critical data somehow got deleted, corrupted, outdated, removed or inaccessible is restored. In this process we can access and recover the stored data that is in any form of digital media, that is currently not accessible by usual means. In a typical scenario, like any physical or mechanical damage of storage endpoints, digital data loss, outdated files that need to be updated to access, and ofcourse data that is deleted by error. In a typical enterprise, data recovery is referred to as a desktop, laptop, internal server or external storage system data back-up.
How does the data recovery process work?
The data recovery process starts with a no-obligation diagnostics on the files, performing checks to figure out cost and calculate turn-around time that will be needed for risk-free media evaluation. Going ahead, systems are tested to understand if the device has recoverable data as needed to recover, followed by transferring media and securing your data. Data is cleaned and copied for backups, the storage is validated before
How can I recover files deleted a long time ago?
Once you lose your data, recovery is hard, but not something without a solution. We suggest first, you can use a file recovery software. and the second way: keep a back-up, starting today. And lastly, and most importantly find a way to keep back up in advance, we help our clients on a daily basis on the same, if you want to take up easy backup methods, contact us.
How long does it take to recover data?
Once the data is recovered, it is sent back to the customer as an encrypted external device. Terralogic data recovery experts gives standards of service quality that meets our customer deadlines. Our data recovery experts test each and every level to scrutinize your digital media and determine the chances of recovery. Once the needed data is recovered it is given to the client in these form of media, viz tape, CD, DVD, HDD, and USB drive. We also share an encrypted file of the recovered data through a secured server system.
What is difference between Data Recovery Services and Data Back-up Services?
A backup can be as simple as copying files to another disk/storage. Now this is done in multiple different ways like maintaining a secondary computer, mostly organizations prefer as a cloud-hosted backup solution as a secondary backup. Having a backup is basic for today's business data backups to protect all critical data in case of accidentally deleted data. In cases like this, when the computer gets stolen or the hard drive crashes, a backup can help you easily restore the data you have recently lost.
When can data be recovered?
Data recovery generally depends on the cause of the data loss, whether there is any damage or loss on the device or physical data centre. When incase of physical damage or any type of mechanical failure, replacement of manufacturing parts are done. When the platters store all the data, NAND and SSD are intact, recovery is possible from the hard drive. Even in case of severe physical damages, like damage from fire, water etc.
What to expect when I lose my data?
When you accidentally lose critical data, these are three quick fix steps you can try. First to turn the system off, second disconnect the power source, third keep it in a safe place, don't fiddle. We advise not to try to recover the data yourself, this actually reduces your chances of a successful recovery. Because, in the first few moments post data loss, it is crucial and a lot of recovery potential depends on how the situation is handled at that moment, so the best thing to do is to call a recovery professional.
How can I keep my data safe?
It is wise to adapt the three-two-one first-aid rule and focus only on keeping three seperate data copies on seperate types of storage, while ensuring that at least one copy is kept offline/off-site. This thumb-rule is to tackle the problems of precisely hard drive failures and keeping a back-up with this rule is very effective.

One, you can backup data in the cloud, an effective-value and stress-free way to back up the data for mid to small businesses, and cloud-backup is a fantastic way to eliminate future physical data-losses.

Two, you can opt for an on-premises backup system, which is great because direct control. And the 3-2-1 rule can be set-up easily, but it is always recommended to have both physical and cloud backup - better if you can have a separate cloud backup as well.
If you experience a fire, flood or theft, Is your backup really safe?
Keeping a backup is not enough, you need to be sure that your business data is secure at any time and from any sort of damage.
Talk to us today!
Call us at 801-359-7700
Our 15 years of achievements includes: